So, Pride Month is over. What now?
YOU CONTINUE TO SUPPORT LGBTQ+ FOLKS!!!
June is globally recognised as Pride Month. A month to commemorate the continuous pursuit of equality, justice and liberation for the LGBTQ+ (Lesbian, Gay, Bisexual, Transgender, Queer/Questioning) community. This is an important month for many LGBTQ+ people. However, over the years, we have seen the month being rainbow washed and the roots of freedom and justice being neglected.
I am sure we all picked up on the increase in LGBTQ+ activities and communication in June. Whether it be rainbow company logos, or internal panel discussions around the topic. While these are important and play a role, the support for LGBTQ+ folks should not stop at 11:59pm on June 30th. True support for LGBTQ+ folks needs to be all year-round and go beyond awareness building. The focus should also be on driving change and action.
There are many structures and policies that organisations have in place to protect LGBTQ+ employees from discrimination in the workplace. But there are many more that could be implemented. Beyond company policies, I also believe that all employees have a role to play. This article will focus on the individual actions that you can take in your personal capacity to foster a safer, more inclusive space for LGBTQ+ folks in your team and larger organisation.
1. Educate Yourself
Many of us have heard the phrase "educate yourself" being used. Especially when it comes to topics in the Diversity, Equity & Inclusion space. And it's true — we DO need to educate ourselves. Educating YOURSELF, and taking the initiative is key to becoming a better ally to LGBTQ+ folks and a better human in general. The onus should not lie on LGBTQ+ folks to do the teaching. Don't get me wrong! There are tons of LGBTQ+ folks, myself included, who enjoy doing LGBTQ+ educational work and spreading awareness about the issues our communities face. BUT this should not be EXPECTED from us.
Trust me! There are soooo many resources out there that are readily available and cover so many important LGBTQ+ related topics. Google is our friend, and we need to use it. Here are a few resources for people that want to Support LGBTQ+ friends, family or colleages:
2. Use Inclusive Language
LGBTQ+ inclusive language does not make any assumptions or have any negative connotations about LGBTQ+ folks. I still remember starting my first job fresh out of university and being in a new space where I was not "out" yet. I was nervous about how I'd navigate the workplace as a queer woman. One day, I was having a personal conversation with colleagues. We were getting to know each other. Suddently, someone in the group asked me, "do you have a partner?" I literally almost fell out of my seat — in a good way!
It was the first time, in a while, where someone did not assume the gender of the people I dated and used a gender neutral term like "partner" instead of assuming I had a boyfriend. The fact that I vividly remember this moment, shows you the positive impact of inclusive language and what a long way it goes.
Other examples of LGBQT+ inclusive language include:
Using "folks", "colleagues", "team", "everyone" instead of using "ladies and gentlemen" when addressing an audience
"Spouse" instead of "husband" or "wife"
"All genders" instead of "both genders". This is inclusive of people who don't fall within the binary of man or woman.
"They" instead of "his, him, she, her". Defaulting to gender neutral pronouns is more inclusive. Which brings me to my next point: RESPECT PRONOUNS!
3. Respect People's Pronouns
In the English language, we regularly use personal pronouns to refer to people. Often these pronouns have a gender implied (e.g. she/her for a woman). However these associations can be inaccurate. Most of us grew up being taught that when referring to a single person, we should use "he/she" pronouns and only use "they" for multiple people. However, this is incorrect (I want a portion of my school fees back!).
They/Them pronouns can indeed refer to one individual, and using this set of pronouns is more inclusive than assuming someone's pronouns based on their appearance or name. Being referred to by incorrect pronouns particularly affects trans and non-binary people, and can cause tremendous harm. Using someone's correct pronouns is a basic way of showing them respect and really doesn't take much from us.
So how do I introduce myself in an inclusive way?
When having a meeting with new people, it may be good to introduce yourself using your pronouns to send the message that that is a safe space and people's pronouns are respected. The sharing of pronouns by everyone, not just trans and non-binary folks, is important because it reduces stigmas and normalizes that gender and pronouns are not to be assumed.
You want to support LGBTQ+ colleagues. And, let's face it, you may mess up! Despite our best efforts, there may be times when we accidentally use the incorrect pronouns when referring to someone. If this does happen, it is important to acknowledge it, apologize, correct yourself and carry on with the conversation, and remember not to do it again next time. As bad as you may feel for accidentally using the incorrect pronouns, in that moment, remember that you feeling bad cannot take priority over the way that the person who was addressed using the wrong pronouns feels. So don't try and justify yourself, over apologise or get defensive. This places your emotions at the centre stage and places the person who has just been referred to using the pronouns in an awkward position to comfort and soothe your emotions of feeling bad. That's unfair.
4. Speak Up and Call Out Queerphobia in the Workplace
I know that speaking up against something wrong in general, especially towards leadership can be scary. Sadly, it can also be career limiting in some organisations (a topic we need to unpack in another chat). However, to support LGBTQ+ folks fully, we really need to consider the negative impact that not addressing queerphobic comments in the workplace can have on LGBTQ+ employees. This also includes calling out people who make queerphobic jokes in the office thinking that they are being funny – no, Thomas you are not funny, you are being queerphobic, period.
Calling someone out can look like "excuse me [person X] what did you actually mean by that?" This allows the person to pause and reflect on what they said, and potentially realize for themselves that what they said was problematic. It can also be done in a more explicit way by directly telling the person that what they said was queerphobic and caused harm. Sometimes people really don't know that what they said was harmful, and that is understandable, we are human after all. It is what you do once you have been made aware that really matters.
Side note: if you see a queer person calling someone out for queerphobia in the workplace, do not police the way that they do it because you have no idea what emotions that incident may have triggered for that person.
5. Don't 'Out' Someone if They are Not Openly Out in the Workplace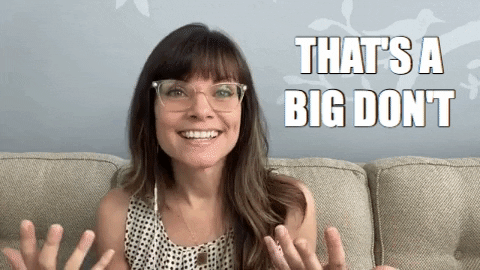 Last and, definitely, not least: We should not out people in the workplace.
Unfortunately some work spaces are not safe for LGBTQ+ employees and don't have policies in place to protect them from discrimination. Many people intentionally don't "come out" at work due to the fear of how it may impact their career and working environment (relatable content!).
If you find out someone's sexual orientation or gender identity at an event outside of the office, do not disclose this information to other employees. I may be comfortable being openly lesbian at the bar down the road. But don't assume the same applies for the office meeting rooms. If someone confides in you and shares their sexual orientation or gender identity, this person has decided to trust you with this information. It is NOT yours to disclose. Besides! People's sexual orientations and gender identities should never be "office tea" (gossip). These are people's lived experiences.
These five listed actions are in no way exhaustive. Much more can be done to support LGBQT+ folks in the workplace, especially as the Pride Month "hype" dies down. These are also accessible and don't take much, but can make the world of a difference to someone!
Titi is a brand marketing and social impact enthusiast in pursuit of a more just and equitable future for all. Her professional career has mostly been in the Fast-Moving Consumer Goods (FMCG) industry where she worked on a diverse range of innovative and purpose-led brands in Africa and the US. She is passionate about driving change in whichever space she occupies, and as a marketer, strongly believes that brands have a big role to play in driving societal impact at scale.